Passports with Purpose 2012 kicks off today and after the incredible fundraiser last year to raise $80,000 for libraries in Zambia (a goal we met!), we're turning our eyes, ears and keyboards to a new endeavour.
Long-time readers of Legal Nomads will know that this is the third year that I've participated in this fundraiser. It's wonderful to see a larger and larger group of travel bloggers coming together to make a difference with a concentrated drive for a single charity. Last year was to benefit Room to Read, and the year prior to benefit LAFTI International and build a village in Tamil Nadu.
This year's goal? Raise a whopping $100,000 for Water.org and build five clean water wells in Haiti.
So what is Passports with Purpose?
Passports with Purpose (or #PwP as the hashtag will be known in the coming weeks) is an annual fundraiser founded in 2008 to provide travel bloggers with an annual organized outlet for fundraising. While many of us donate and volunteer on our own time, it is a chance to give back as a collective to the places we visit.  Each year the campaign has grown and this year's target is Passports with Purpose's biggest one yet.
During the fundraiser, the 2012 campaign's travel bloggers obtain a prize from a sponsor of their choice that will be given away in a random draw at the end of the fundraising drive. Bidding on a prize does not technically require a donation (thanks to US sweepstakes and contest laws it can't), but one is definitely appreciated to help the fundraising cause. That is the point, after all. Once the campaign ends, a winner is randomly selected among the bids for each prize. The full list of winners will be posted on the  Passports with Purpose main site, and the individual bloggers will notify the prize winners once the draw has been completed.
The 2012 Passports with Purpose Campaign: Water.org
This year's Passports with Purpose beneficiary is Water.org.
Co-founded by Matt Damon and Gary White, Water.org is a nonprofit organization that has focused on hundreds of communities in Africa, South Asia, and Central America by providing access to safe water and sanitation. Originally known as WaterPartners International in 199o, WaterPartners merged with H2O Africa in 2009, resulting in the launch of Water.org. Water.org also has a microfinance-based venture called The WaterCredit Initiative.
Says a director of the organization:
It's about a two-hour plane flight from Miami to the capital of Haiti, Port-Au-Prince. In both cities, people wake up with the same needs: a drink of water, a trip to the toilet. How they meet those needs varies dramatically. Nearly half of the people in Haiti don't have a nearby source of clean water and four out of five don't have a sanitary toilet.

Men, women and children living in Port-au-Prince gather their water each day by walking to a nearby water tank (filled sporadically by water trucks) and filling up a five-gallon-jug which they then carry back to their homes. This is typically the only water they have for the whole day, for all of their needs: drinking, bathing, cooking, laundry, cleaning, etc. Often, it's contaminated. In the surrounding villages where Water.org works, the situation is no better. People walk miles or wait in long lines for unreliable water which is often not safe. Can you imagine facing the impossible choice of giving your thirsty child contaminated water or no water at all? Ready access to clean water has so many positive ripple effects. That's why when a community drills a well, they aren't just drilling for water. They're drilling for opportunity: for the opportunity to go to school, for the opportunity to go to work, and for the opportunity to be healthy.
Passports with Purpose's goal is to build five clean water wells in Haiti out of Water.org's total project of 20 new wells.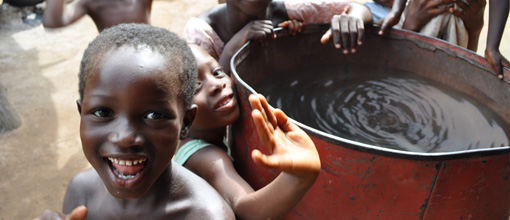 The Legal Nomads prize for Passports with Purpose 2012: a 5-night hotel stay (up to $2000)  from The Hipmunk
I was recruited to write for The Hipmunk's blog back when it launched in early 2011 and have been posting twice a week about travel, photography and other fun finds on the web ever since as their "Wandering Hipmunk". It has been a pleasure to watch the initial team grow as Hipmunk has raised more funding and expanded its offerings. The most recent addition: detailed hotel neighbourhood searches with information about specific areas of any given city to help choose where to stay.
When I approached the Hipmunk team to help support Passport with Purpose they were extremely enthused, but when I saw their offer I was thrilled: a 5-night stay for any of their hotels, with a prize spend value of $2000.
I wish I could bid on my own own prize.
Screenshot from the Hipmunk hotel search
The Details:  5-night stay in any of their hotels, which stay must be booked through Hipmunk.com. Must not exceed $2,000. Hotel stay must be booked at least 6 weeks in advance. Voucher cannot be applied toward Airbnb or HomeAway rentals.
The Delivery: for the lucky person who wins this prize, I will contact you as soon as Passports with Purpose lets me know your name, and put you in touch with Hipmunk's Press Whisperer Jacqueline for prize retrieval.
How To Donate and Bid on Prizes
To participate in Passports with Purpose 2012, please head on over to the Donate Landing Page on the main PwP site. The fundraiser runs from today through December 11, 2012, at 11:59PM Eastern Time. You can check progress of the fundraiser on the widget below – it will update with funds raised every day.
*Images from Haiti above courtesy of Water.org's Flickr feed.