When I was first diagnosed with celiac disease, I went to my best friend's place in Montreal for dinner. She is Italian, and her lovely family were used to feeding me pasta since I was 16 years old. When I explained my disease to her parents, her father looked appalled. "Jodi", he said, "this is a fate worse than death."
While many celiacs feel the same way upon hearing their diagnosis, the reality is that the world is a safer place for our stomachs than it ever has been. And nowhere is that more the case than in Italy. As I explain below, Italy was one of the easiest places in the world to enjoy safe and delicious food as a celiac.
For newly diagnosed celiacs or gluten free diners, I often recommend it as the first international trip after they've adjusted to dietary changes. There's so much knowledge, training of restaurant and hotel staff, and understanding of what cross-contact is.
Italy is a feast for the eyes and stomach if you're celiac, and shouldn't be missed.
LAST UPDATED: APRIL 24, 2023
Overview of eating gluten free in Italy
Upon my return from Italy, I waxed poetic about how much I could eat. The first reaction from every single person was precisely the same: "oh Italy must be accommodating its tourists!"
Not the case.
It was obvious that the dietary changes were not rooted in tourism. Even tiny towns had knowledge of the disease, and had been exposed to it sufficiently that they made adjustments in what they offered.
I reached out to Letizia Mattiacci, who runs a B&B with a cooking school in Italy. Letizia responded quickly:
I recall seeing a Dutch study time ago stating that modern wheat varieties have higher toxic gluten content than traditional varieties. Then there's the problem of overexposure. Wheat and modified starch are everywhere, so Italians are certainly more exposure than others as we are big pasta and bread eaters. According to the Italian celiac association, about 1% of Italians are celiac. As a consequence, is not surprising that you find lots of gluten free options in Italy. In Perugia we even have a gluten free restaurant and we'll have a Gluten-Free Festival at the beginning of June.
In a 2019 report entitled "Direzione Generale per l'Igiene e la Sicurezza degli Alimenti e la Nutrizione", the Italian government noted that celiac disease diagnoses in Italy increased by 57,899 from 2012 to 2017, with an average of 10,000 new cases diagnosed per year.
The knowledge and care about gluten free dining goes much deeper than that. Children are routinely screened for celiac disease in Italy once they begin to show any symptoms that may be correlatable, something doctors missed for me when I was a child. I spent many years sick to my stomach with no suggestions to screen for celiac. As with some other countries, in Italy celiacs also receive a government subsidy to compensate them for the higher cost of gluten-free foods.
Furthermore, Maria Ann Roglier, the author of The Gluten-Free Guide to Italy, notes that Italian law requires that gluten-free food be available in schools, hospitals, and public places. And that you can study for a masters in celiac disease, from diagnosis to management thereof.
But one thing still nagged: the country didn't just know about celiac disease, they accepted it. They embraced that this was an issue and moved around it to accommodate their meals, and did so with gusto. I asked Letizia and she gave a thoughtful response:  that Italians are very conscious of the connection between health and food.
In addition, there is the fact that food is central to Italian life and community. Per a New York Times piece on celiacs in Italy:
In Italy, not being able to stomach wheat is more than an inconvenience or fad diet.

"It's a tragedy for Italians," said Susanna Neuhold, the AiC's manager of food programs. "Food in Italy is the center of social life and relationships with people. For someone who can't go out with their friends or to a work meeting at a restaurant, it's a very big problem, psychologically and socially."

That resonance has translated to an institutional empathy that might shock Americans.
This "institutional empathy" is very apparent in the breadth and advocacy of the Italian Celiac Association, the AIC (Associazione Italiana Celiachia). Founded in 1979 via parents of celiac children at a time when little was known about celiac disease and it was erroneously thought to be a "pediatric condition", its goals were to understand what celiac disease really was, including the long periods of misdiagnosis for patients, and to find safe and delicious gluten free products for celiacs to eat in Italy.
Today the AIC's goals and advocacy has expanded considerably, as it now also creates papers on celiac disease, lobbies the government for testing, accommodations, and more, and surveys the celiac population for areas to improve living with the condition. It also helps with training standards for restaurants, hotels, and bakeries to fully understand the breadth of what safe gluten free eating is for celiacs, and much more. There are now 21 associated AICs within Italy, all of which support not only the patients via advocacy, but also push forward new research studies about the disease.
In addition to the wonderful work of the AIC, alternative flours are prevalent in Italy as well and have been part of Italian cuisine for centuries. In the nineteenth century, an Italian agronomist noted about Tuscany that "the fruit of the chestnut tree is practically the sole subsistence of our highlanders" (Targioni-Tozzetti, pub. 1802, The Cambridge World History of Food).
And in the twentieth century, Adam Maurizio, who wrote a seminal book on the history of edible vegetables in 1932 (called L'histoire de l'alimentation végétale depuis la préhistoire jusqu'à nos jours, for those inclined) discussed chestnut trees as being available not just for the fruit of the tree,  but also for making into bread when grinding that fruit into flour.
Unlike in North America, where these new flours are trendy but not firmly braided into our history, Italians have been using ground corn, chestnuts and chickpeas as substitutes for hundreds of years.
A detailed gluten free restaurant card for Italy
As with the other gluten free cards I offer, this detailed gluten free card was written in detail in English, then translated into Italian by native speakers. It includes not only wheat, barley, and rye, but also the other grains with gluten (kamut or farro) used in Italian food. And it aims to help celiacs travel safely, and with comfort that their needs are going to be explained to native Italian speakers even if they don't speak the language.
Note: The card is available for purchase via trustworthy 3rd party site that uses https, so you know your information is safe. I am not gathering emails or information for anyone who buys the card.
Why is this gluten free card different?
I used several different translation cards on my travels, and I still got sick. I may be more sensitive than some celiacs, but even a small amount of contaminated oil for frying, or wheat-thickened sauce in the food, is enough to make me ill for days. And regardless of whether we feel it or not, ingesting any amount of gluten is a problem if we are celiac.
This card is different because:
✅ Immediate download, sized specifically for mobile. You can save it to your phone and have it with you as you travel, or you can print it out and laminate it to take along.
✅ It uses local ingredients and lists of what you can/cannot eat help you eat safely, not just "I can't eat gluten".
✅ Unlike less-detailed cards, this card explains that contaminated surfaces or oils are also unsafe.
✅ It is researched by a celiac and goes through two sets of translations to ensure accuracy.
An English translation of the card will be emailed to you after your purchase.
A big thanks to Alanna Tyler and Letizia Mattiacci for their help in translating this card.
While the card above contains the safest way to communicate celiac disease in Italy, here are a few quick phrases you can also use:
I have celiac disease and I cannot eat gluten. Do you have anything that's gluten free?
Soffro di celiachia e sono intollerante al glutine, ha qualcosa che sia senza glutine?
What gluten free options can I try?
Quali opzioni senza glutine mi può raccomandare?
I have celiac disease and eat a gluten free diet. What can I eat from your menu?
Soffro di celiachia e seguo una dieta senza glutine. Quali opzioni di menù posso avere?
Eating gluten free in Italy: dishes and snacks
For the most part, the following suggestions are for you to be able to walk into restaurants that are not specifically gluten-free, but that have options for you on the menu.
As with the other gluten free guides I've written, I find it far more satisfying to eat safely where I can, versus sequester myself in GF restaurants all the time. Yes, it's great to know things are safe to eat in those dedicated GF kitchens but the point of travel is to connect with other humans and learn about their culture and food— to me this is best done in general restaurants to the extent possible.
Gluten free pizza, usually corn, chickpea and/or rice flour based. Confirm that shared pizza pans will not be an issue, and that this dough is not made on the same surface as the floured doughs — pizza shops often have quite a bit of flour being tossed around their kitchens!
Gluten free pastas, which, like gluten free pizza crusts, are getting better all the time!
Grilled meat and fish, including arrosticini (meat skewers from Abruzzo, typically sheep). Confirm no breaded/dredged flour on fish prior to cooking.
Risotto and risi e bisi – confirm broth is gluten-free. Risotto is a creamy rice dish with many variations, most of which are made with butter, wine and onion as a base. Risi e bisi is a variation on risotto made with fresh peas and diced pork (usually prosciutto or pancetta, but sometimes bacon or ham is used). Both dishes should be safe, but confirm the broth is gluten-free.
Plain rice.
Insalata Caprese, a simple and delicious salad of tomato, basil and fresh mozzarella slices.
Farinata or cecina or panelle, all regional variations of a chickpea flour flatbread. A farinata is likely to be thicker than a cecina, and a panelle is fried, while the other two are baked. All should be safe, but check to make sure they're made with 100% chickpea flour.
Ragu, which is a meat based pasta sauce, the most popular version of which is Bolognese sauce.
Pesto, and pesto alla Genovese, pastes made of fresh basil and oil blended with garlic, pine nuts, salt and a hard cheese such as Parmesan or Pecorino.
Sausages. Storebought sausages may contain flour in the casing, but if you confirm they're gluten free, Italy provides some delicious options! Salsiccia fresca is a popular fresh pork sausage seasoned with fennel seeds. Mortadella ham is a large pork sausage often eaten as lunch meat that has little cubes of pork fat throughout it; Bologna sausage is similar. Bresaola is an aged, cured beef usually served in papery slices, while Prosciutto, sometimes called Parma ham, is cured ham served in a similar fashion.
Stracciatella soup is sort of an Italian egg drop soup. Usually made with a meat-based broth and a mixture of eggs, parmesan, and seasonings slowly drizzled in, this soup should be safe if you confirm broth is gluten-free, and no flour, pasta or breadcrumbs are added.
Porchetta (savoury, tender pork roasts) should be fine if not breaded.
Beans and lentils – confirm that if broth is used it is gluten-free, and no flour or pasta or breadcrumbs are added.
Polenta, boiled cornmeal that is served either hot as porridge or allowed to cool into a loaf before being sliced, baked or fried, and incorporated into other dishes.
Caponata, a sweet and sour eggplant dish that's fine for celiacs, as long as the cooking oil is not contaminated.
Panna cotta and semifreddo desserts. Panna cotta is a decadent dessert of cream and sugar thickened with gelatin and flavoured in various ways. Semifreddo refers to any semi-frozen desserts, most of which will be made of eggs, cream and sugar, among other things. These treats should all be fine, if confirmed that no flour was added.
Torta Caprese – flourless chocolate cake
Zabaglione is a dessert of egg yolks, sugar and sweet wine, sometimes served as drink, just be sure to order without cookies.
Granita fruit drinks
Gelato IF gluten free, as many flavors do have gluten.
Almost all cheeses (including parmesan and ricotta) — HUZZAH!
Fresh vegetables and Meat Always an Option!
Even when not on the menu, most restaurants will have a simple dish of steamed vegetables served with lemon. In the event you cannot find a side dish that works for your stomach, the chef will almost always oblige. Type of vegetables will vary depending on the season, but have in my experience always tasted better than at home.
Many of the meals at lunchtime that I enjoyed were a version of whatever meat they had that day alongside some delicious steamed vegetables and a salad.
Foods in Italy that AREN'T gluten free
Gluten is a huge part of Italian cuisine, and while there are some wonderful options that are naturally gluten free — and some great celiac-friendly modifications available — the reality is that most of the food has something we can't eat.
I wanted to list out a bunch of those dishes, just to make sure you have them in mind when you travel there.
Pasta (most of the 600+ varieties, including ravioli, gnocchi (potato dumplings but are also always made with wheat flour, tortellini, passatelli and Pizzoccheri – which is often named buckwheat pasta, but also contains wheat).
Pizza unless specifically labeled gluten free, and varieties of pizza like the folded calzone option.
Breaded meats like cotoletta (veal cutlet) and cacciatore.
Breaded and fried vegetables.
Battered or breaded fish or calamari (squid).
Arancini, rice balls coated with bread crumbs.
Salami, which is a cured sausage that often has wheat. Some store-bought salamis will be marked as gluten-free but the customary way to prepare them does include gluten.
Meatballs, and sausages like cotechino (a pork sausage similar to salami).
Involtini (known in US as braciole), a way to pan fry meat that often uses a coating of breadcrumbs and cheese.
Osso buco, a veal stew/casserole (meat is dredged in flour during preparation)
Soups such as minestrone, pasta e fagioli, and acquacotta (bread soup). Ribollita, a Tuscan soup, may be made without wheat occasionally but it is rare.
Panzanella — a bread salad.
Cannoli — a Sicilian dessert.
Crostata — a baked tart
Pandoro, panettone, panforte, and Zuppa Inglese — all cakes / sponge desserts that are sadly off limits.
Tiramisu (SO SADS)
Most types of bread including Piadina (flatbread) and pastries like Sfogliatella.
Most types of gelato – unless clearly marked as gluten-free, I would avoid.
The Perfect App for Celiacs in Italy, from the Italian Celiac Association
This app didn't exist when I initially wrote this guide, but the official app of the AIC (Associazione Italiana Celiachia) is now available, and it's a must-have for shorter term visitors.
It costs about $4.99 USD for 2 weeks of access, which you can only do twice before being prompted to join the AIC if you want more. So for shorter-term travellers, this is a great option, one that includes a searchable database of certified safe restaurants and shops.
(For longer term, if you don't want to join the AIC, then stick to the gluten free translation card in Italian.)
Their official app page is here.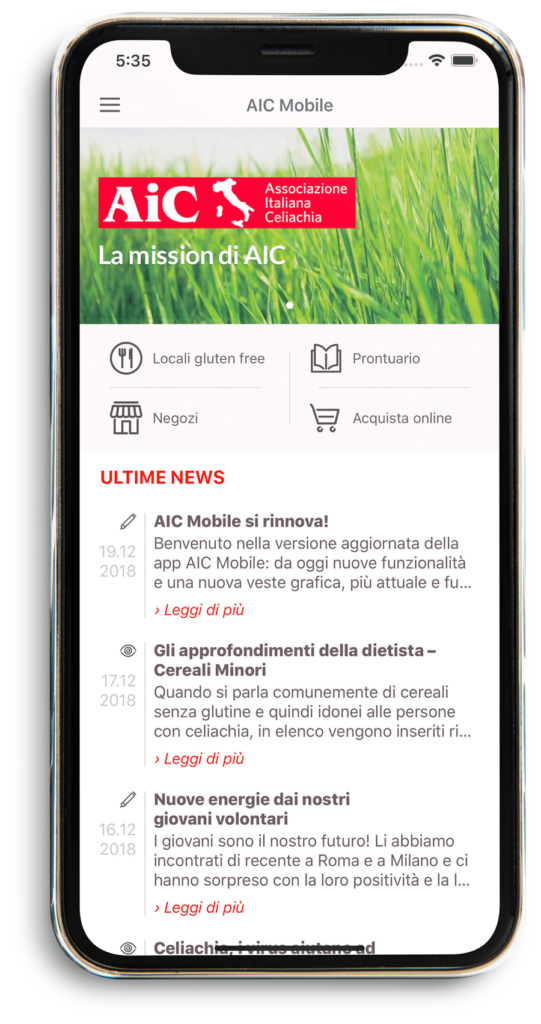 Apple version of the app here. Google Play version here.
Gluten free shops and restaurants in Italy
There are so many spots that are worth a visit, 100% safe for celiacs, that I didn't put together a long list like my other celiac guides. That said, some people around the web have taken the time, so I wanted to point you their way!
As for gluten free products, Italy is a true haven of options. As part of the EU, strict labeling laws apply in Italy, and only products under 20ppm can be marked "gluten free."
Every supermarket I visited had gluten free basics, with larger ones (like Aldi or Coop) offering a selection I can only wish I had at home. As with the UK, supermarkets often have their own "free from" / "senza glutine" lines, and some of the best Italian pasta brands, (Granoro and Le Veneziane) offer gluten free pastas for purchase. I also can share that I ate more gluten free breadsticks than I knew what to do with during my time in Italy.
Also similar to elsewhere in Europe: pharmacies are a great spot to stock up on gluten free food, unlike in North America.
Other fully GF spots that had a huge selection of gluten free products:
Celiachimo: In Rome. Well-stocked gluten free shop that also has freshly baked goods for celiacs to enjoy, like pizza, biscuits, tarts, mignons, croissants, homemade cakes, and pastries of "a thousand flavours", as their website promises. It's 100% gluten free, with dairy free options available as well. It's the best.
L'Isola Celiaca Roma Cassia Groceries and gluten free breads, pizzas, and sandwiches. Closed Mondays. In Milan, L'isola Senza Glutine is similar.
For long list of celiac shops in Italy, see Celiachia Italia's list here.
Further reading for celiacs traveling to Italy
Now in the Legal Nomads Shop: hand drawn food maps of Italy!
Happy and safe eating!
-Jodi