After many years in Southeast Asia, friends and I plan our travel schedules based on weather, food, and conferences in between. One guarantee, however, is "burning season" in Chiang Mai and beyond.
Written March 11, 2012 and updated occasionally.
What You Need to Know about the Smoke and Smog in Chiang Mai
During burning season, smog shrouds the city and walking around, even for just 10 minutes, leaves your eyes stinging and your throat raw. Those of us still wandering around town are doing so with masks on.  The March smog is actually nothing new – for years, people have talked about asthma issues in Chiang Mai during the pre-rain season. The first year I was in Chiang Mai, it rained quite early so the smog was minimal. The following year was the first time I experienced the smoggy, hazy late winter months in Northern Thailand.
When is the smoky burning season?
The 'burning season' is usually late February through late April. During those months, Doi Suthep's mountain views are obfuscated in smoke, and breathing feels laboured compared to the wet and non-smoky months. The season ends when the rains tentatively begin, often just after the end of Songkran, the Thai new year. Full on rainy season isn't until later in the summer months, but the late April and May rains are sufficient to open up the skies and dissipate the polluted air.
Why the air pollution in Northern Thailand?
Farmers in Northern Thailand burning the fields to allow for replanting and regrowth. In 2009, the Irawaddy noted that
"The traditional rural method of slash-and-burn farming, whereby fields are burned by farmers in the dry season between February and April, so that the ashes fertilize the fields while they lie fallow, is responsible for the greater part of the pollution."
A 2016 piece in National Geographic says that this method of farming is great for the ecosytem, even if it's bad for our airways:
Those practices, which are found on every continent, are extremely varied. But they follow a common pattern. First, most of the trees and shrubs are cut down in a relatively small patch of forest, typically around one hectare, where they are left to dry. In a few days, the withered vegetation is burned to put nutrients into to the soil in preparation for planting crops.

This practice makes the use of artificial fertilizers unnecessary. What's more, weeds and pests are destroyed by the fire, eliminating the need for herbicides and pesticides during the short period of crop cultivation.

After one or two growing seasons, the field is fallowed, or set aside to rest. Eventually the forest returns, and the cycle is repeated.
In addition to intentional "slash and burn" farming, the air worsens for the same reason it does elsewhere: the forest fires due to hot spots in the forest, igniting and spreading quickly in the hot, dry air.
From 2019, a Channel News Asia video featuring firefighters in Chiang Mai who have been working round the clock for weeks trying to put out forest fires:
Here's the same vantage point, one during smoky season and one prior / after: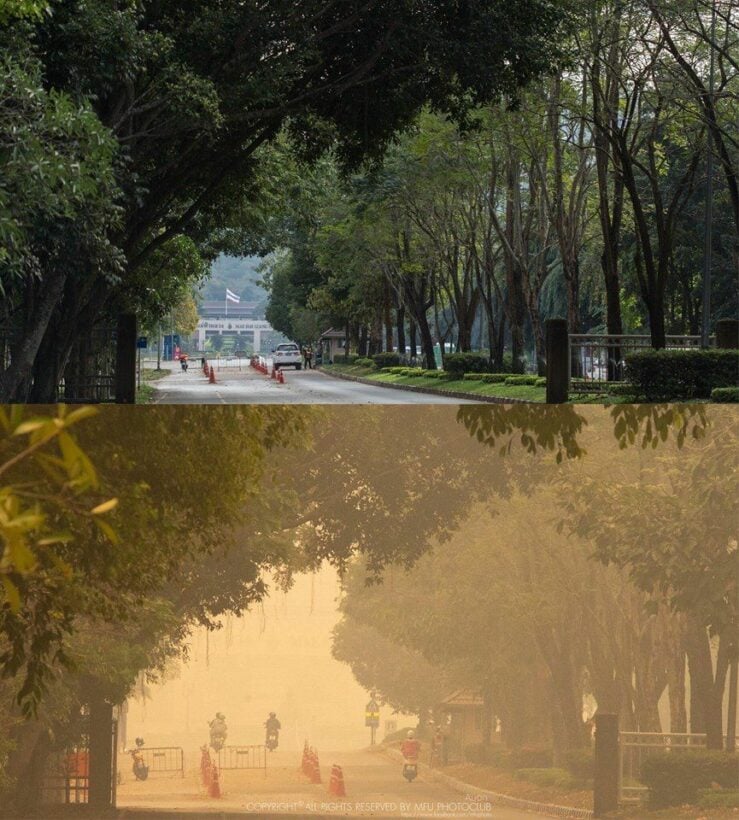 How bad does the air get during burning season?
For one, the air is worse in the mornings and then sometimes burn off during the afternoon. But overall, the air does get bad. Very, very bad. During my season, we all complained of itchy eyes, sore throats, wheezing, chest pain, and more. It goes without saying that if you've got asthma, I would recommend heading elsewhere during these months. Friends teaching further north reported that some of their young students would show up vomiting due to the pollution. Toxic air is dangerous for all, but the young and the elderly are most susceptible, as are the immunocompromised.
A 2019 piece from the Washington Post opens with this strong statement:
In mid-March, the city with the worst air pollution in the world wasn't an industrial powerhouse populated by millions. It was Chiang Mai, the tourist-friendly cultural center in northern Thailand.
Moderately polluted air has an AQI of 50 to 100. During an April Association of Southeast Asian Nations' (ASEAN) Finance Ministers and Central Bank Governors' summit in Northern Thailand, the air was classified with a staggeringly high AQI of 379.
That same WaPo article closed with a comparison: on May 7, 2019 in the AM Eastern Time (so, May 8th at night) Chiang Mai came in 8th in AirVisual's ranking of major cities by air pollution, with an AQI of 121. New York, by comparison, was 73rd with an AQI of 18.
Sometimes the fires get so bad further North that there is talk of evacuation near Mae Sai.
(Photos above, courtesy of Catherine from Women Learn Thai)
Resources for Burning Season in Chiang Mai
Chiang Mai burning continues, despite the assurances of the government that it will be stopped. It's a far more complicated problem than simply banning the burning; the farmers who do burn their fields do so in order to grow their crops, and the issue speaks to more than a simple change.
For other posts about burning season see:
For air quality resources for Chiang Mai and beyond see:
For pollution masks and purifiers for smog and smoke see:
For proper pollution masks, you'll want a good quality mask that has at least a particulate N95 grade (so 95% of air particles larger than 0.3 micrometres/microns in diameter are kept away from your airways), eg this 3M Particulate Respirator 8210V, N95 Respiratory Protection mask.
Where to buy pollution masks in Chiang Mai? There is a 3M store in the old part of Chiang Mai (within the city gates) that sells these and other masks. You'll want to stock up ahead of time, as they are scarce once the burning begins.
There are portable air purifiers you can purchase on Amazon and bring to Thailand, or buy locally – just make sure it can purify particulate matter smaller than 2.5. For local purchases, friend have found great help with the Xiaomi Mi 2S Air Purifier, available here.
One Season of Burning and Smoke
So why did I stay? For starters, it's not all sad faces – we even have fun in our smog masks.
* * *
My time in Thailand thus far has also been full of reunions with close friends, visiting family members (like my cousins below) and doing what I do best: eating (click for my Chiang Mai guide!).
A little too excited to be eating Thai food again: I forgot to take the photo before we dug in.
I didn't forget the next time! Grilled chicken at a great Isaan place across from Chiang Mai University:
Somtam (green papaya salad, spicy, sweet and delicious):
And the full meal:
There are plenty of less traditional dishes on offer, too – and I'm not talking pizza. At the Sunday night walking street, the temples lining Ratchadamneon are full of food stalls, including a great dim sum stand in Wat Sum Pow:
It's a personal choice to stay or to go. I had concerns about my lungs and throat after one season, so I opted to live elsewhere during the smoky months. Many friends, however, stayed. A note that you may need to go further than Bangkok: from January 2019, NPR reports schools closing due to toxic air in Thailand's capital.
More from the New York Times about how Thailand is trying to fix Bangkok's pollution problem here.
– Jodi